Richard Bell's Wild West Yorkshire nature diary
Lost Weekend
Sunday, 22nd April, 2007
IT'S BARBARA'S birthday today, mine tomorrow and we feel like celebrating anyway since I have - at last - finished my booklet, so a long weekend goes by without me doing very much drawing at all. Shame!

Why don't I draw our visitors? I'm not sure, perhaps because I feel the need to settle into a continuous drawing after so long without drawing (other than maps and illustrations for the walks booklet). The superb cake, (made by my brother-in-law, thank you John), and the mugs seem like a better bet than the animated family and friends around me.

Cakes not cousins, mugs not mums, chairs not . . . um . . . chums.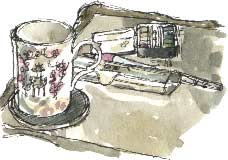 I must say that the Noodler's ink is working rather well for me. The line around the dining chair (top left) has the wayward, inky quality that I like and which I don't feel I get with a fibre tip. The watercolour works quite well, provided I avoid situations where I need a wash of a pure pale colour. Colour adds an awful lot, both information and mood, to a small drawing.
I'm missing my Pentel Brushpen at the moment*. I last used it in my mum's garden on the 7th and don't think I've seen it since. I can't get my spare, the Royal Langnickel Aqua-Flo Brush to work as well. It keeps slurping up the watercolour as I work!
I've also been using a sable brush and small plastic bottle of water but the first time I tried that, at our friends' last week, I'd filled the water bottle brim full and when I poked my brush in it ran all over their coffee table!
*A week later, shortly after writing this, my Brushpen showed up; on the plan chest amongst the assorted debris of the last hectic week. Glad to have it back!