Richard Bell's Wild West Yorkshire nature diary
Travels around my Paintbox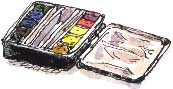 Sunday, 29th April, 2007
AFTER READING Victoria Finlay's Colour, Travels through the Paintbox (see 7th April). I thought it was about time that I reacquainted myself with my own paintbox. I bought this credit card-sized box (which is sold empty, so you can select your own colours) two years ago, just before we set off on holiday to Mallorca. I wanted it to be as lightweight as possible so that I could pop it into a bum-bag with a small sketchbook when we set off walking in the hills.

Primaries
For artists wishing to mix colours from the three primaries, Winsor & Newton recommend:
Winsor Lemon, Winsor Blue (Red Shade) and Permanent Rose.
I couldn't find a box that took only three colours so I went for their recommendation for a six colour mixing system:
Winsor Lemon, Winsor Yellow, French Ultramarine, Winsor Blue (Green Shade), Permanent Rose and Scarlet Lake.
This still left four half-pan slots in the paintbox so, as I found it was a bit of a bind putting all three colours together for a brown or grey, I added some secondary/tertiary colours:
| | | | | |
| --- | --- | --- | --- | --- |
| | | | | |
| Permanent Rose | Scarlet Lake | Winsor Lemon | Winsor Yellow | Yellow Ochre |
| | | | | |
| Permanent Sap Green | French Ultramarine | Winsor Blue | Raw Umber | Paynes Grey |
Botanical Colours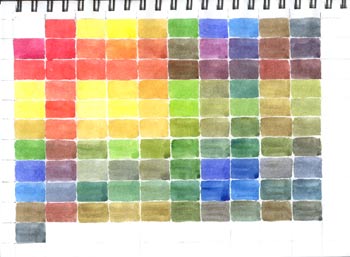 I've put this small palette together with landscapes and natural history in mind. If I was doing a lot of botanical subjects, I'm sure I would have included a violet or mauve.
This simple system of mixing from primaries works quite well; the Winsor & Newton leaflet, 'Artists' Watercolour; Perfecting the Fine Art of Water Colours', features swatches of their full range of watercolours but it is printed using only yellow, cyan (blue), magenta and black. They warn that the colours are reproduced as a guide only within the limits of the lithographic process. Similarly, on screen, you're seeing these colours as mixtures of red, green and blue.
Swatches
To get to know my way around my small paintbox I did swatches (left) of all the mixes of two colours, trying to get a colour that was about halfway between the two I had started with. Notice the subtle Paynes Grey tinted colours in the last vertical column. Paynes Grey isn't strictly necessary but it's a quick way to dull colours - often necessary when you're painting in the English landscape! - and you can use it as a tonal under-drawing for subjects in light and shade, depending on the colour you're going to use as a wash over it.
Paynes Grey varies greatly from manufacturer to manufacturer. I'd describe the Winsor & Newton version as having a greenish tint.

Rainbow Order
I realise that I have got my blues and yellows in the wrong order. I'm aiming for a spectrum/rainbow arrangement, so the greenest blue should be nearest the yellows, the warmest yellow nearest the reds.
Winsor Yellow is nearer to red than Winsor Lemon and my Winsor Blue – since I bought the green shade - is nearer to yellow than the French Ultramarine.
So this is my new arrangement:
| | | | | |
| --- | --- | --- | --- | --- |
| | | | | |
| Permanent Rose | Scarlet Lake | Yellow Ochre | Winsor Yellow | Winsor Lemon |
| | | | | |
| Permanent Sap Green | Winsor Blue | French Ultramarine | Raw Umber | Paynes Grey |

When I renew the colours, I will probably replace Yellow Ochre with Raw Sienna, which is transparent.