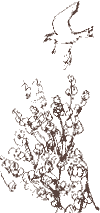 Wood Pigeon and crab apple blossom


Saturday, 28th April, 2007
COLLARED DOVES mate briefly with a good deal of fluttering on a precarious perch at the top of a Leyland cypress.
We're in my mum's leafy back garden and it's a sunny late afternoon so I go for the strongest blue in my box (right, left-hand bird), but it's the other blue, when I try it on the next sketch, that is nearest to the blue of the sky.
If you're a regular reader you'll know that these are Noodlers ink and watercolour sketches. There would have been more sketches but my fountain pen ran out of ink! If I was still using cartridges in my ArtPen, I would have had a spare in the long barrel but the filler that I use takes up the whole space in there.
But it's not like me to have come without a second pen.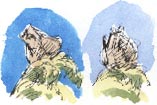 Collard Dove on different blues