Richard Bell's Wild West Yorkshire nature diary
Mossy Rocks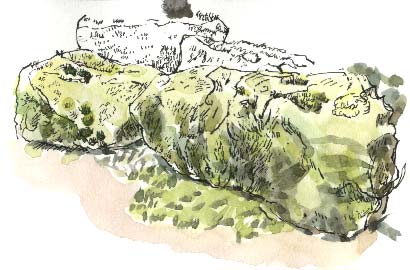 Saturday, 7th April, 2007
LOVELY MORNING, and we've taken our coffee up to the top of my mum's garden. Even on my mum's neatly trimmed lawn it's not going to matter too much if I spill a little ink so this is an opportunity to try out my favourite ink from yesterday's experiment and use a dip pen to draw with, then add a watercolour wash.
If you've read High Peak Drifter you'll know that mossy rocks are amongst my favourite subjects! Look how those dip pen lines dance around in comparison - if you can imagine it - with the handier alternative of a fibre tip.
I'll admit that the right-hand rock ended up a little out of proportion but in this case that didn't matter too much to me. I was more interested in exploring the medium this morning. You'll notice one small blot.
Ink & Watercolour
With renewed enthusiasm for colour, I've brought my largest box of watercolours, the White Nights, some sable brushes and, of course, a small plastic bottle of water.

Both Indian Inks gave equally good results in my test but the one I've brought with me is the French made Lefranc & Bourgeois Nan-King Intense Indian Ink (right) because it comes in such a neat bottle, with a low centre of gravity (useful if you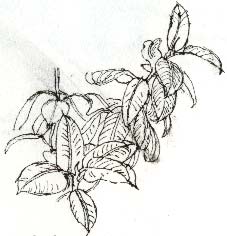 need to stand it on a lawn), a narrow neck and a neat, practical pipette built into the stopper.
By comparison a full bottle of Rohrers or Noodler's needs a good deal of care when you're handling it. They both come in wide-mouthed screw-top bottles similar to a small herb or spice jar.
Rubber Plant
I had no intention of adding colour the rubber plant drawing (left) , made at my brother-in-law's house this afternoon, but I still hit a snag because of the slow drying Noodler's Ink. When it was suddenly time for us to go, I had to pop my drawing into my bag without closing the sketchbook and it got smeared in the process.