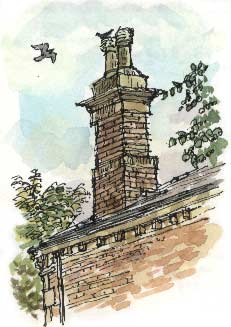 'I REMEMBER that you drew me a series of cartoons,' says Wyn Gallon, my English teacher from Grammar School days; 'There was "Henrietta was laying on the beach" with Henrietta as a hen on a nest laying eggs.'
I do remember them, as it was the first time I'd really tried drawing in dip pen and Indian Ink. Another was "Running round the corner I saw a bus" - it had legs and was bending as it ran along the pavement to the astonishment of passers by.
'If you've still got those they'll probably be worth something!' I suggest.
Mrs Gallon was one half a husband-and-wife literary team at Ossett Grammar. Mr Gallon (John, but to us he was always 'Mr') once added his own illustration to an essay I'd written. I was trying to be literary so I wrote: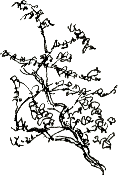 'Casting my head to the window, I see the tall poplar tree.'
Mr Gallon drew a decapitated head being chucked towards the window.
We're at a '40 years on' reunion party (in my mum's back garden, hence the drawing of the Victorian chimney) but really I'm a gate-crasher as it was my sister's year in the VIth form who left in 1967. But I left school in the same year, immediately after sitting my 'O'-level exams.
Mr Kingdon, the headmaster, admonished me: 'Art schools are for people who can't get 'A'-levels!'
As things have turned out was, definitely, the right decision. I don't think I've ever worked harder than I did those two years on the foundation course at Batley School of Art, often with a timetable that kept me busy from 9.30 in the morning until 9 in the evening doing classes in life drawing, natural form, printing, textiles, ceramics, photography, 3D design, graphics, exhibition design, interior design and decoration and, yes, even 'A'-level art. I should add Mr McAdam's ('Mac') off-the-wall philosphical discussion class to that list and Mrs Howgate's art studies sessions to that list as they helped give us a perspective on art, graphics and life in general.
It was wonderful to plunge into all that artwork after the academic hurdles of Grammar school life.