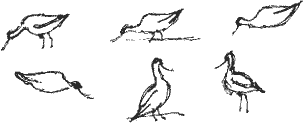 NORTH CAVE WETLANDS, a reserve centred around flooded gravel workings, isn't far from the Humber Bridge; for us just 45 minutes via the M1 and M62. It's surprising to be able make such a short journey then to be able to sit in a comfortable hide drawing avocets (right), a conservation success story, thanks to reserves like this.
Barbara and I don't get around to visiting many reserves and we wouldn't have got ourselves up and off with a picnic and flask today if it hadn't been for the Wakefield Naturalists' Society field meeting. As we amble around the perimeter walk, it's good to catch up with friends too - another thing we don't do enough of.

Not far from the reserve's central Turret Hide we spot this pecked-at egg. At 5.5cm long it's smaller than a hen's egg and my guess is that it's a mallard's and that black-headed gulls, which nest noisily nearby, have taken it, but it's just as a likely to have been a crow that made off with it.
This won't make much difference to mallard numbers; a watchful mum is taking her large brood of ducklings along the

edge of one of the lakes.
Coots (right) are being aggressive, as coots invariably are, at the edge of a drainage ditch.

Sand martins (right) skim and dive around a corner of the lake in the far corner of the reserve.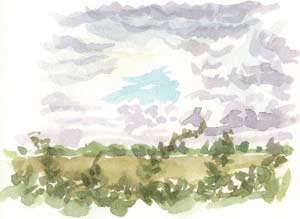 It's a dull day but it's evident that a glimpse of the sun would persuade more butterflies to emerge from the herbage. A large skipper (left) roosts on a bramble leaf. The swatch of dark scent glands across the fore-wing indicates that this is a male.

Melancholy thistle (right) is a striking cousin of the spear and creeping thistle that I'm more familiar with. Also striking is the hemlock lining a drainage ditch along the boundary of the reserve: it smells strongly of mice and on a dull, moist still day like this the scent lingers in the air.
Beyond the hedgerow, an adjacent field is dusky blue with borage flowers. I assume that nearby there will be bee hives, brought in to make the most of this bonanza. I tried borage honey recently; it has a thicker, gloopier kind of texture and - unless this is the power of suggestion - I'd say that it has a vaguely herby, rather than flowery taste.