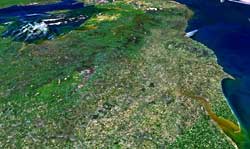 THERE'S A WATERY LIGHT over the broad valley around Shepley, in the foothills of the Pennine moors, as seen from the café at Armitage's Garden Centre, Shelley. We're here to check out book stocks; sales of my walks books came to a sudden stop when this persistently watery weather started weeks ago and the garden centres have felt the effects of the weather too, especially in the barbecue department.
CCC Mitchell's, the big camping store at the end of our road, had water running in the back door, right through the store and out of the front door. This weekend they had a huge sale of flood-damaged stock which attracted so many customers that the police had to deal with the flood of traffic.
The satellite view of northern England (right) is a NASA image, generated by their World Wind program. Flamborough Head is the spur projecting centre right with Spurn Head at the mouth of the Humber, lower right.

Geocover 2000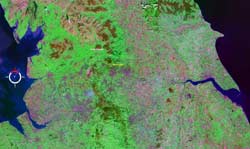 You can display the Geocover 2000 satellite survey in World Wind which uses false colour to emphasise differences in vegetation. In this image (left) the Pennine hills stand out in bright green with maroon-brown moor tops while the North Yorks Moors appear in a similar colours in the top right (north-eastern) corner of the image.
The gentler, rolling hills of the Wolds are less striking but visible as a lighter, more bluish green band crossing the Humber estuary down into Lincolnshire on the eastern side of the map. They follow the outcrop of chalk across England.
A close-up view of West Yorkshire (right) shows the M1 snaking north with the Trans-Pennine M62 motorway, less conspicuously, crossing from east to west. This shows World Wind's ability to view the satellite image obliquely and generate a three-dimensional relief map. East Ardsley reservoir is the dark patch on the left, the light area on the right is the junction 41 industrial estate.

Google Earth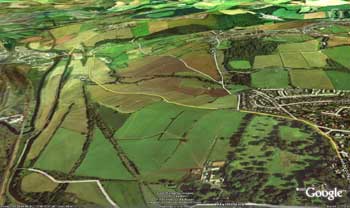 For finer detail you're better off with the aerial survey used by Google Earth, which can also be viewed as a relief map.
This view (left) shows our regular longer walk, not that we've done it much during this wet summer, from Coxley Valley, the woods in the background, along Smithy Brook Lane, which runs diagonally just above the centre of the image, through Thornhill Park (lower right) and back alongside the canal (left, running parallel to the River Calder).
One final NASA World Wind image; Morecambe Bay and, rising beyond it, the Lake District(right). This looks more impressive full screen and of course, if you're using the program, you can of course zoom in to areas of interest by scrolling with your mouse-wheel and, by clicking with your mouse, you can make your way in hovering hops - it feels like riding on a child's scooter - across the Cumbrian hills towards the Solway Firth and Scotland.