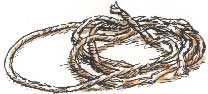 THE RAIN IS SOFT but continuous, so I wasn't tempted out. This old duster and piece of string on my desk were just the sort of subjects I felt like drawing. Complex in an organic sort of way but not demanding to draw, as a pineapple or pine cone might be. I can just let myself relax into the drawing.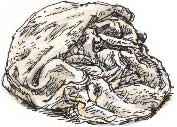 According to physics and biology, strings, folding and quantities of cosmic dust are at the root of structure of the world around us.
These are in dip pen and Nan King Indian Ink with White Nights watercolour. I mixed a dilute wash of raw sienna and a touch of madder lake light for the duster but it is so old that I had to blot even that to get a sufficiently washed out look. Before doing that I'd put in some patches of neutral black (it should have been Paynes grey but I inadvertently went for the adjacent colour) to add tone in the shadows.
It's been interesting to experiment with photography recently and to explore Google Earth and NASA images but it would be good now to get back to drawing. I've been putting all my creative energies into the garden recently but that's all done now and this week I've made good progress on a new book - one that doesn't require me to draw any illustrations - so I feel like getting back into the drawing habit again.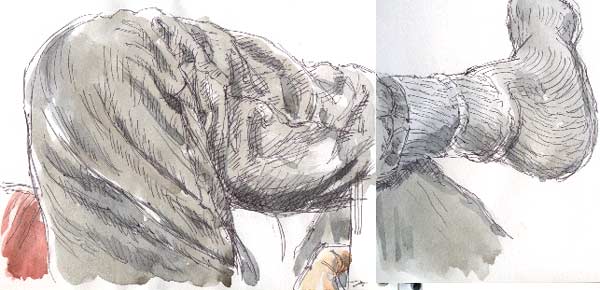 Once I'd started again, I felt that I wanted to do more, so, as we sat chatting over tea and cake at Barbara's mum's this evening, I drew whatever took my interest around me. I started with the newspaper (right) but the fibre tip pen that I'd brought with me soon dried up, so the other drawings were done with a black ballpoint pen.

We happened to be back at Barbara's mum's the next day so, as Barbara talked her mum through how to make dough in the bread machine, I added some watercolour.

The drawings worked fine in black and white but I like the additional information and life that a simple wash of colour can bring to a drawing.

And it's good practice. You'd be surprised how difficult it was to get just the right grey when painting my sock and jeans (above). The great thing with small sketches like these is, even though you don't get everything right first time, there's a chance that you'll be more fluent with the colour mixing next time.