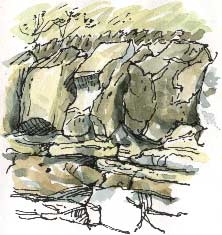 DRY-STONE WALLS have been restored in the grounds of Oakwell Hall near Batley, now a country park. The nature trail there points out that spiders have their lairs amongst the crevices and that stoats will hunt on and alongside the walls. Rabbits and hare shelter by them (and run the risk of being ambushed by the stoats!).
The existing woodland has been restored and extended. Just beyond the hall, there's a newly planted arboretum where you can sit and admire the young trees from rustic benches sheltered by living willow bowers.
Bretton Country Park is a little nearer to us than Oakwell but I think I prefer Oakwell. At Bretton they've made a big success of the Sculpture Park but this means that you now approach the park along an iron pavement stamped out with the names of sponsors then enter an uncompromisingly urban glass and concrete visitor centre. You can't walk far in the country park without having your preconceptions challenged by some impressive modern sculpture.
But for countryside, for relaxing and enjoying trees, hedges, walls, meadows, ponds and gardens, I much prefer the gentler, friendlier approach of Oakwell. I don't often visit Bretton these days because I remember how pleasant the place was before the attention-grabbing sculptures and the facilities that accompany them were installed. The place is more popular now, attracting visitors from far and wide, but, for me, the spirit of the place has been lost in the razzmatazz of international art installations.
I must go back to draw at Oakwell Hall. This drawing of a sandstone wall was made at Birchcliffe Farm Shop, Emley, this morning, as I waited for Barbara and the mums who were shopping there.