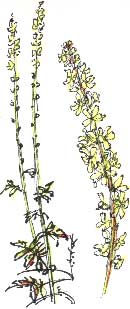 Agrimony
Agrimonia eupatoria
WHILE THE OTHERS who've come on today's Wakefield Naturalists' Society field meeting make their way around Ellerburn Bank, the Yorkshire Wildlife Trust's wildflower meadow on the Pickering side of Dalby Forest in the North Yorks Moors national park, I stay at the top corner and draw Agrimony and Common Spotted Orchid.
Both these species are typical of dry grassy or scrubby places on lime. Agrimony is a member of the Rose Family, Rosaceae, related to Meadowsweet which is growing nearby and similar in its foliage. According to the Shorter Oxford English Dictionary, Agrimony gets its name because of a misreading of the Latin, argemonia, in the writings of Pliny and others, which comes from the Greek, argemönë, which actually refers to the poppy.
I've seen orchids where the leaves are more conspicuously spotted than in this one (right) but this is a variable character, as is the colour of the flower, which can be pale pink, pale purple or white. The darker markings on its flowers are purple.
Butterflies include marbled white, large white, small white, red admiral, meadow brown, ringlet and small heath but I must admit that with my nose close the ground I didn't see many of them.

What we think was an emperor dragonfly zoomed along the forest track which leads to the reserve but the one we saw - unlike the one in my sketch - had some yellow amongst its markings.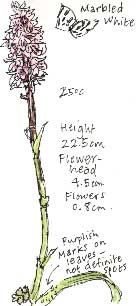 Common Spotted Orchid
Dactylorhiza fuchsii