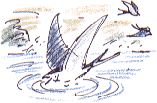 MAKING THE MOST of a window in the wet summer weather, Barbara and I set off on a walk we haven't done for years; following the towpath of the Calder and Hebble Navigation from Horbury Bridge via the Figure of Three locks to Savile Town, Dewsbury.
By one of the bridges over the canal, swallows are dipping down to the water to drink, or perhaps catch insects trapped on the water surface. They've made at least three mud cup nests where the H-section steel girders of the bridge intersect. They swoop in under the arch and chitter excitedly to each other.

Plenty of small tortoiseshells, a couple of red admirals, large white and orange tip are flying over the grassy verges of the towpath. Rosebay willowherb is in fresh magenta flower; the stately flower spikes look as if they would be more at home in a cottage garden than on waste ground by the railway. It's one of those flowers that reminds me of the long summer holidays of my school days and of my college days, when I first roamed the valley with a sketchbook.


A tiny toad, one that could sit on my little fingernail, is making its way slowly over the towpath beneath a railway bridge. While I carry it off to some suitable part of the undergrowth where it will be in less danger of being trodden on, Barbara spots two more, equally small, in the narrow grass verge nearby. Survival during their first year must be quite an adventure for these tiny toads.


We come back by bus; a rare thing for us, and to be honest, walking back the direct way, along the towpath, would be almost as quick as winding around the houses the long way, stopping every hundred yards, but it's interesting to see corners of Dewsbury and Ossett that we rarely visit.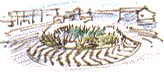 Three older teenage boys are walking up a side street as the bus leaves the Kingsway (Ossett) roundabout. One of them races back down the hill when he sees the bus and throws some object, half a brick probably, at the bus from about 5 yards range. He looks manically determined and puts all his effort into hurling it as forcefully as he can. He could hardly miss such a large target at such close range but I suspect he was aiming at the sliding doors of the bus with the intention of breaking the glass.
Still, he looked extraordinarily delighted with the dint he'd made in the bodywork. He raises his fists in the air in a gesture of triumph and probably, though I couldn't hear from inside the bus, says 'Yeeehhhh!!'