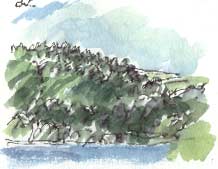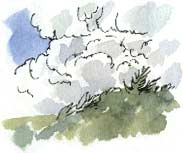 OGDEN WATER, a water supply reservoir, is a narrow turn off the Keighley to Halifax road, about halfway between these two south Pennine towns. Surrounded by woodlands and crags, it nestles naturally in a dip in the moors.
Once you've left the speed cameras of the A629 behind you and driven a few hundred yards between the drystone walls of the leafy single track lane, you're in another world. It's one of those places that people evidently develop a great affection for; a notice in the toilets asks that wreaths, flowers and other tributes should not be placed in the natural landscape and that, if you wish to have your ashes scattered here (and who wouldn't, it's the nearest thing you're going to get to paradise in West Yorkshire?) you should check it out with the wardens first.
Wonder what they'd allow a Viking fire-ship funeral?

West Yorkshire Geology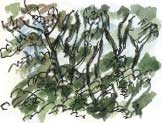 The West Yorkshire RIGS group is holding an important all-day meeting here in the portacabin amongst the pine trees, where - as an all-day meeting is too long for me - I drew these views across the woods and water as our discussions continued after lunch. But hopefully I still took everything in.
We decided on a name change; after years of having to explain what RIGS* are, we're now going to be known as the West Yorkshire Geology Trust. I guess that some people will confuse geology with archaeology, but we decided that the Earth Trust sounded a bit too New Age and the Rock & Fossil doesn't convey the features in the landscape that we'd like to protect and encourage people to explore and enjoy.
*RIGS are Regionally Important Geological and Geomorphological Sites but, under new recommendations, they could soon be replaced by a new designation and become simply 'Local Sites', some of which would be of geological interest, others of ecological interest.
Link: Ogden Water