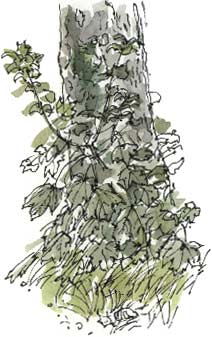 I'M DRAWING ON THE MOVE today, so it's back to fibre tipped pen, a 0.7mm Stædtler mars professional and, as I like adding colour these days, my pocket-sized Winsor & Newton artists watercolour box.

I did an online interview recently for Jill Novak (see link below) about nature journaling and she commented on how often in this diary I write 'I drew this while I was waiting for my mum . . .' (or for Barbara). Of course, in America it's 'mom' rather than 'mum'.
Stressed Sycamore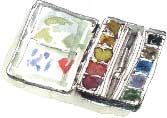 The sycamore with the leafy sprouts around the trunk (a sign that the tree is under stress) was drawn as I waited for Barbara and her mum at the hospital. Her mum had just a short routine appointment and I didn't know exactly how long they'd be but I wanted to add some colour if possible. I hurriedly drew just enough of the leaves, twigs and trunk to make a recognisable image (left, top half of the drawing) in fibre tip and, as that dries almost instantly, I soon added watercolour.
Still no sign of the patient, so I was able go back to the pen and extend the drawing by adding a few more leaves, this time I allowing myself to go into a little more detail (left, below the centre), and, to give the tree some context, a suggestion of the grass. I'd just started colouring again when Barbara and her mum reappeared.
I tried suggesting that they should go back in the hospital for another 20 minutes but they weren't having that, so that's as far as I got.
A Fish & Chip Dinner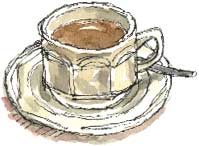 We went on to haver lunch at the Queens Drive fish & chip restaurant in Ossett. If you came here often enough, you'd see everyone, or at least everyone with some local connection, from Coronation Street star Helen Worth (who has played the character Gail since 1974), to the novelists Stan Barstow (who was in last time we called) and my old school friend Portia da Costa (to give her one of her pen names).
When artist journaller Danny Gregory from New York came to stay with us for a weekend a few years ago he said he'd like to try fish & chips while he was in Yorkshire, so we took him to Queens Drive. He then complained that there was nothing suitable to draw and it takes a lot for Danny to say to say that, as he's the author of Everyday Matters and Creative License, two inspiring, moving and practical books that make you want to grab a pen start drawing the everyday world around you.
I have to admit that Queens Drive doesn't have the ambience of a street café in Paris, but at least my cup of tea provided me with subject.
Link: Drawing from Life! with Jill Novak. Jill's DVD The Art of Nature Journaling , aimed at encouraging children to draw from nature, is scheduled for publication next spring.