I DREW in reed pen and Rohrer's Ink then added washes of pre-mixed dilute of Chinese ink with a Chinese brush. I can't remember using this combination since I worked on High Peak Drifter a year ago. I still have four plastic screw top sample jars (the type you get from the pharmacy) of ink wash labelled from '1, pale' to '4, dark'.

I have now very much got the urge to draw but I spend all the time I can sitting at my desk going through the text for my Sherlock Holmes book again and again. It's a slow process as I steadily work through my research, trying to get it to connect up and flow smoothly.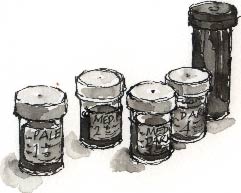 I haven't missed much as it hasn't been the best of summers for drawing; after the flooding two months ago we're now getting days that feel like October so here's hoping that, when I've got my book off to the printers, we'll have an Indian summer and I'll be able to get out with my sketchbook again.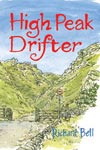 High Peak Drifter, which features a variety of ink and wash media drawn on location in the Peak District in all weathers, is available from my Willow Island Editions website, £6 plus postage. It's in a sketchbook format and is entirely handwritten.