Return of the Goldfinch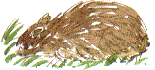 We stopped feeding the birds in early summer when we spotted a brown rat in the garden, however, probably as a result of the flooding, there were reports of rats moving around in towns and in the country. I saw two young rats lying dead by the path when we walked up in the valley about a month ago.
Despite stopping feeding we glimpsed a small rat a few weeks ago.
As we live on the edge of the countryside we will probably always have the odd rat passing through but I'd like to find some way of catching the sunflower hearts that get spilled from the feeders so that they're not tempted to stay.

We've missed the goldfinches which used to visit the feeders every day; there would be one or two at the feeders most of the day and flocks of 20 or more would descend occasionally. Pheasants also treated the place like home in contrast to this August when we've seen only one bedraggled male wandering in one rainy afternoon.
Lesser Knapweed
It was like old times this morning when we spotted goldfinches on the knapweed; first two . . . then four . . . six or perhaps more.

The lesser knapweed leans out over the pond. It still has purple thistle-like flowers but some have already gone to seed; fine feathery seeds that goldfinches with their slender beaks are adept at extracting and opening.
Yesterday we had another once-familiar species return; a pair of greenfinches made their way through a patch of hedge and border pausing for a drink from the bird bath before flying off. Greenfinches were never as numerous as the goldfinches.