The painting took longer than I thought, a good afternoon of work, and the light changed as the sun moved across the sky and eventually down behind an oak tree, but I didn't want to resort to working from a photograph, as I would have ended up imitating the lighting effects. This is a cabbage observed over several hours, not a fleeting moment.
Most of my drawings are in sketchbooks and they get stored away in the attic. The canvas is different; I've done it with an exhibition in mind; it's something that can go away and hopefully have a life of its own.
By the way, I used just the three primaries and white in Finity Artists' Acrylic Colour, with a touch of yellow ochre for the soil. My acrylics set includes Phthalo Green Blue Shade but I felt this would be too dominant so I found it better to mix each shade of green individually.
Brushes: hogshair, flat, 2, 4 and 6 (and briefly 12 at the start, soon realised that was too big) and round 3. I found the flat more useful for the leaf veins.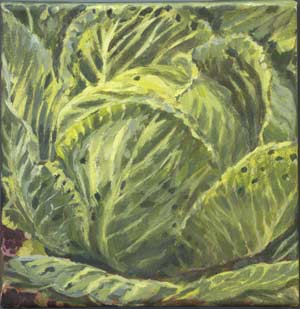 Link to larger version of this image