Flood Alert
Richard Bell's Wild West Yorkshire nature diary, Monday, 21st January, 2008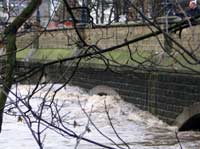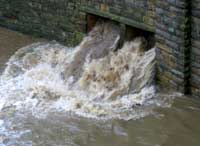 THIS AFTERNOON there are flood alerts for the River Calder with highest levels expected this evening in Wakefield and Leeds. Already at 2.30 p.m. it's up to tops of the arches on the bridge. Motorist's are pulling up to take a look. It's lapping at the foot of the houses on the Island at Horbury Bridge, as it did six months ago in the floods of June 2007.
The two overflows for Coxley Beck and Smithy Brook are in spate but the streams haven't reached the levels they reached last summer.

The Bingley Arms has seen many floods. This one has reached the little terrace at the side, which usually stands well above the river.

The car park behind the pub is closed. When I took this photograph the river was just inches from spilling out across the tarmac.