Uni-ball Eye
Richard Bell's Wild West Yorkshire nature diary, Thursday, 24th January, 2008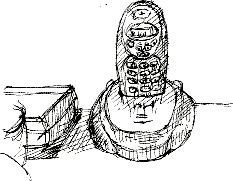 ANOTHER NEW PEN - or, rather, one that I've had for some time but which I've only just got around to using: the uni-ball eye micro, by the Mitsubishi Pencil Co. Ltd., which is described as waterproof and fade-proof.
Roller Pens v. Fibre Tips

I never hankered after roller-skates as a child and this pen offers the drawing equivalent; with its 0.5mm dia.tungsten carbide ball set in a stainless steel tip you could find yourself careering off in a direction you didn't intend to set off in but this does get over one of the disadvantages of the various fibre tip pens that I've been using a lot of recently; they can tend to move over cartridge paper rather sluggishly, even scratchily when the ink begins to dry up.
Jetstream
If you take a look at the uniball website you'll see that their pens are aimed at sharply dressed young jet-setters rather than grizzled old drawing journalers like me but if you've ever attempted to take a rotring rapidoliner on an aircraft you'll appreciate the thought that Mitsubishi have put into producing a pen that writes smoothly in a pressurised cabin: their jetstream roller pen takes refills, which, like the uni-ball, contain waterproof pigment ink.
But is the uni-ball really waterproof: yep, it's fine; I added watercolour to my drawing of a bowl of organic fruit (we get an organic box delivered every Tuesday) and there's no sign of the ink running.
White Notebook Project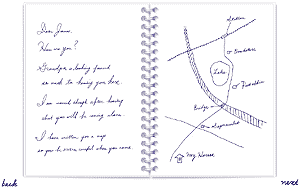 I'll certainly use the pen again. With my rather shaky hands I tend to favour the contact with paper that you get with fibre tips, dip pens and fountain pens but it's probably a good thing to let myself go with the flow a bit, so the uni-ball is something I should keep using.
And next time I travel by air I really must try out the jetstream . . . if I can believe Mitsubishi's advertising, carrying the pen will not only help my drawings glide around smoothly but it should also sharpen my image a bit. That's got to be a good thing.
I like their white notebook project (left).