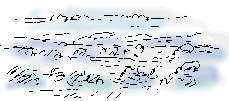 WE DRIVE UP to the mining museum which sits on a ridge beyond Overton; Smithy Brook valley below is vanishing into the mist. Another reminder to me that we have some wonderful countryside within minutes of where we live, with many paths that I have yet to explore.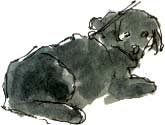 We call in Horbury where the latest news is that they've got permission to demolish the stone-built gothic Methodist church. It's cracking up, has problems of damp and dry rot but its demolition will leave a hole in the fabric of the town. I must make the effort to draw it before it goes for good.
A small black dog sits, then settles down in the queue in the building society in Ossett. This week Channel 5 have been showing documentaries on remarkable animals – an elephant that can paint pictures, a seal that can solve logic problems and a dog that can predict when a person is going to die. If they find a dog that can work out which queue to join at the check-out, I want to know about it. This patient pet evidently detected that it was going to be a long haul so it curled up in a comfortable corner and let its owner get on with his business.

The squirrel found it's way up to the bird feeders yesterday and Barbara saw it sitting in the tray eating breadcrumbs she'd put out. This morning the little tray had slid down the pole to the bottom. The collared dove, which normally sits in it, looked perplexed, while the blackbird had to stretch its neck out to peck underneath the tray.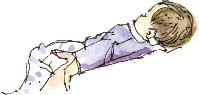 We imagine that the tray slid down the pole like a lift with the fat squirrel sitting on it.
More babies! I've seen so many over Christmas – this brand new boy (a neighbour's) arrived rather later than expected, just in time for the New Year celebrations.