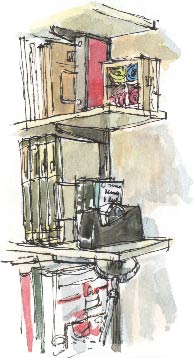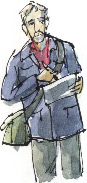 IT'S GOOD to have another chance to experiment with my new Ackerman Pump Pen; this is the one that takes Indian ink and a dip pen nib. I had an idea that I should have a cartoon self-portrait on my homepage. This hasn't turned out looking exactly like me, nor is he the smiling welcoming presence I had in mind, but he does look rather funny and quizzical, the way he's leaning over drawing, so I think that I'll use him anyway.
I need to become more familiar with the feel of this pen. It flows freely – once I've given it a quick clean and re-filled it – which is a contrast to the fibre tips that I've been using recently, where the flow seems more controlled. It's a pen that will be fun to use for flowing subjects, like a cartoon strip, but in situations where inky fingerprints would be a problem, such as sitting in someone else's house, I'm still not confident enough about the technical side of using it.
Pump Action
It's an ingenious, simple but well-engineered design, even so, Indian Ink in any context should come with a warning label! But how else could you do an inky line-and-watercolour wash cartoon so simply? As I said last time, the Nan King Indian ink dries quickly, quicker, it seems to me, than the Pilot fibre tip Drawing Pen that I'm currently using (see yesterday's sketch map).
This is the first time I've picked the pump pen up since before Christmas so, to get the feel of it I drew the end of the book-shelves – which recently had a good spring-clean.
The Ackerman is an interesting pen to use; it's got an individual rather old-fashioned kind of character that I

haven't come across before. If you feel that you'd like to experiment, they're currently $19.95 and post free even if you live outside the USA. In addition to a variety of fittings for dip pen nibs there's a brush pen (that can be used with acrylic, watercolour or ink) and a fountain pen that would take an Osmiroid sketch nib. It's a long time since I used my Osmiroid, wonder if it's still working.
Take a look at the website; you can order online or via e-mail or by phone: Ackerman Pens