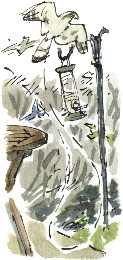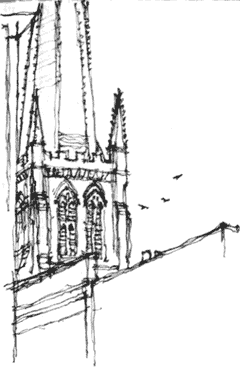 I PROBABLY I saved the life of one of the birds at the feeders this afternoon. I was just about to

replenish the sunflower hearts and was thinking that as soon as I turned the door handle the collared doves, great tits, greenfinch and goldfinches would fly away.
They did, but a split second later there was an extraordinary blur of wings as the great tit dived into the hedge and the other birds scattered down the garden.
In the centre of the commotion was a greyish sparrowhawk, the smaller male, which did a vertical figure-of-8 manoeuvre between the feeders and the patio table. I have the impression that as the hawk reached the top of his loop he paused almost motionless for an instant, like a gymnast turning and changing hands as he or she vaults over uneven bars.
The hawk came out of the manoeuvre and made another close pass by the feeders but by then his birds had flown.

In Wakefield a female peregrine has been spotted, using a perch high on the cathedral spire. From her pinnacle she can survey a broad curve of the Calder Valley which includes several wetland reserves, so she has a choice of prey; takeaway-fed town pigeons or organically grown free-ranging wintering wildfowl.
Hope she finds a mate.