Quake Shakes Leeds
Richard Bell's Wild West Yorkshire nature diary, Wednesday, 27th February, 2008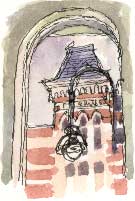 THE Evening Post newsstands posters exclaim: 'QUAKE SHAKES LEEDS'.
'Did it wake you up?' I ask the woman selling the papers.
'I hadn't gone to bed' she tells us, ' I've recently moved and I thought it was the house collapsing! It came at 1 a.m.'
We felt it too; it was as if it was timed to strike on the hour. Barbara felt the shaking and woke up first. It was the noise immediately afterwards that woke me up as the house and the central heating pipes vibrated.
We've been having a lot of home improvements and it had been windy during the day so my first thoughts were that there had been some enormous airlock in the central heating or that the chimney had blown down. We soon guessed that it was probably an earthquake but I still felt the need to walk around the house to check for damage, although I didn't bother climbing up in the attic to check on the chimney.
In Starbuck's we overheard one woman saying she thought she had burglars while in our local paper-shop the assistant said she had thought it was her cat and dog fighting under the bed! I've heard reports of wardrobes shaking, of bangs and - and this was a geologist speaking - a pressure wave moving through the house.
The epicentre of the 10 second quake was near Market Rasen, Lincolnshire. It measured 5.2 on the Richter scale.
Window Shopping

I've been so busy writing a book about drawing that I've had no time to actually draw recently, other than a few illustrations for the book. Today we're in Leeds to drop off the car for its service and MOT test, an annual event which now feels like a start-of-spring festival for us, since we always leave the car at a garage in Holbeck, walk alongside the River Aire to the Royal Armouries and spend a few hours wandering around the city. Blackthorn is in blossom and we see three pairs of goosanders hanging on a quiet tree-fringed stretch of riverbank, a few hundred yards downstream from the Armouries.
We take a coffee break at Starbuck's and a lunch break at the Café Rouge by the Corn Exchange where, just to convince myself that I'm having a day off from writing and designing, I draw the views through the windows (above right, Starbuck's, left Cafe Rouge), as seen from our table. The woman with the shawl isn't one of the diners - she was a shop mannequin, sitting on top of a display in Marks & Spencer's.
Family Events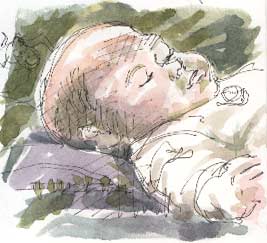 I've been so busy with my book that the only time I've had to draw recently has been at family gatherings. Here are a couple of new babies; Harry (left), our great nephew from the Isle of Mann and Peter, the new arrival next door.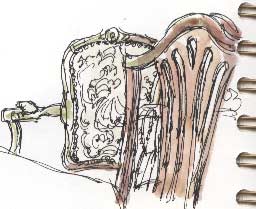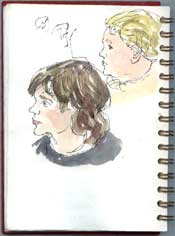 And that's about all that has appeared in my sketchbook during the past few weeks. I drew my godson Richard (right) and his older sister Olivia who giggled at my efforts to mix the precise colour for their hair. Richard was convinced that my drawing didn't look like him but everyone we showed it to recognised him immediately!