Piece of Cake
Richard Bell's Wild West Yorkshire nature diary, Monday, 10th March, 2008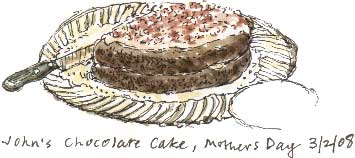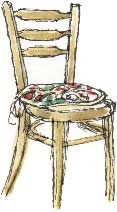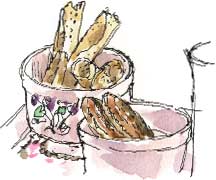 AT LAST it feels as if we're picking up the pieces (of life, rather than chocolate cake); we've had loads of work done around the house plus I've been getting my latest book off to the printers so, as with my only diary entry last month, the only time I've had to draw has been at various social interludes, such as Mother's Day, on the 2nd March.
The biscuits in the ramakin dishes at my mum's (right) were drawn with my Uni-ball Eye Micro pen.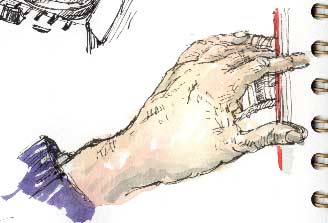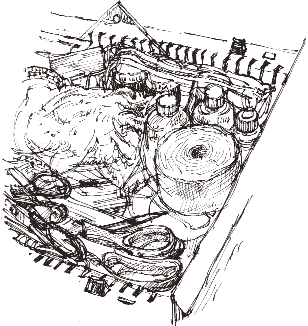 I've been drawing so much with fibre tips recently that one afternoon I felt I needed a bit of break so I got out a dip pen and a bottle of Nan King ink from the top drawer of the cabinet under my built-in desk and drew the contents of the next drawer down; set square, clips, a natural sponge, sample bottles of pre-mixed tonal washes from my location work on High Peak Drifter, water bottles, gum-strip and assorted scissors.
I was going to add watercolour but ran out of time, but, with all those assorted shapes, it's fine in black and white.