WE'VE BEEN DOING so much home improvement that I now know the secret of how to get from one end of the Ikea superstore to the other in a few minutes, using fire doors and short-cuts half hidden between the room displays, instead of taking the zig-zagging route through every department.
Every time that I think we're getting to the end of our project, something else goes wrong and we have to ask around for advice, phone up plumbers, electricians and joiners or set off to town to replace the latest item that has failed (e.g. the video and dishwasher, expenses we could have done without with everything else we've been doing). I spent an hour or two this morning scraping paint off the kitchen ceiling. It's flaky in places but it all has to come off now, even the bits that seem welded to the plaster. Not my favourite job but it gives me a workout.
Jamie at Home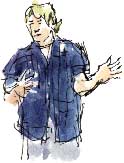 We take a break in the evening and watch Jamie at Home in which the chef Jamie Oliver (drawn here in Uni-ball Eye Micro pen and watercolour as I watched) picks assorted tomatoes from his rambling kitchen garden and converts them with ebullient practicality into soup, pasta sauce or sausage bake. His walled garden looks so inviting when photographed over the gate or through one of the doors in the wall.
It suddenly seems as if our work on the house is coming together now so I hope that before too long we're going to have time to step through our back door to get into the garden again or that we'll put on our walking boots and step out of the front door to follow the footpath up through the valley into the woods.
Secret Garden
My photograph of a door into a walled garden, was taken at a farm at Bentley Grange near Emley in the autumn of 1995 on one of the series walks I led for the Wakefield College department of adult education.