The Corner of the Meadow
Richard Bell's Wild West Yorkshire nature diary, Sunday, 4th January 2009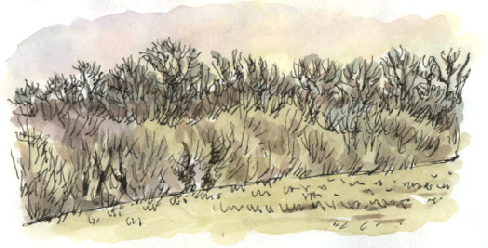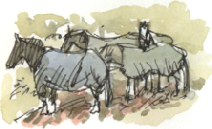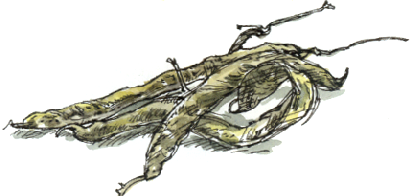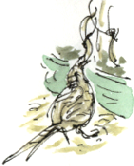 THE PONIES chase each other about for a while then line up expecting their regular visit. Sadly the man hasn't turned up and they're looking as disconsolate as only ponies can, in their grubby mack horse blankets.
When the borlotti vines on the metal arch died back we saw dozens of bean pods that we'd missed but borlottis are very versatile and although we could have eaten these (had we spotted them) as pods like runner beans in the summer, we could still drop the dried beans (19 in these four pods) into a soup or stew.
Or plant them for next year's crop.
We've seen pheasants taking beans from the dried pods then running off and eating them.
By the way, my Noodler's Bulletproof Black ink didn't work quite as well as I thought it ought to. It ran into the yellow wash on the bean pod and into the sky of my picture of the wood. Perhaps I was working too quickly to allow it to dry properly. But it's fine for dull subjects like the ponies in their grubby blankets!