Towards the end of the Afternoon
Richard Bell's Wild West Yorkshire nature diary, Monday, 5th January 2009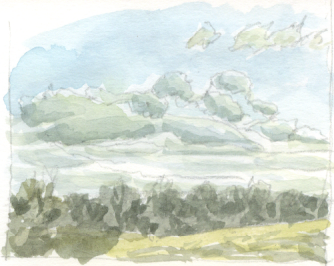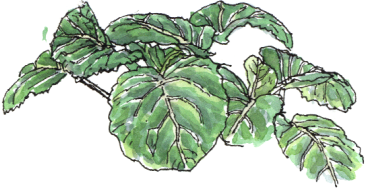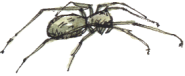 WORKING ALL DAY, even over the weekend, is paying off and I feel as if I'm on the final phase with my walks booklet, even though there's a lot still to do but, inspired by my new sketchbook and the fresh start of a new year, I finish work at 4.10 and decide that I have time for a quick sky sketch before sunset. The square roughly corresponds with my studio window.
This is a rare use of pencil for the initial drawing but the sky didn't lend itself to pen. The light was fading so this sketch looked darker in tone as I painted it.
On the run-up to Christmas I must have gone for two months without checking the plants in the greenhouse, fortunately most of them are doing well, for example this winter cabbage. I was surprised to see a movement on the leaves when I brought this potted cabbage seedling into the studio to draw; a spider, a brown, long-legged variety with its abdomen slightly flattened top to bottom - the shape of a well-stuffed cushion.
It climbed out from the centre of the plant and clung to the underside of one of the leaves.
Underside of leaf of an ornamental cherry, Prunus sp.
Winter Cabbage Brassica oleracea