Hartshead Church
Richard Bell's Wild West Yorkshire nature diary, Sunday, 11th October 2009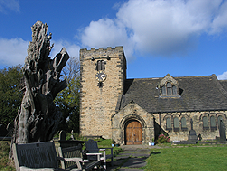 THE YEW trunk in Hartshead churchyard is probably as old as the church itself; the square tower is thought to be medieval, while two of the arches in the church go back to the Norman period. Most of what we see today is a Victorian restoration in the Norman style - as in the carved head on the porch (right).
Patrick Brontë, who was vicar here from 1811 to 1815, met Maria Branwell, who became his wife, in Hartshead. Two of their daughters were born during their time here - not Charlotte and Emily but Maria (b. 1814) and Elizabeth (b.1815) who both died in infancy.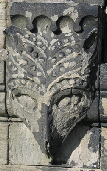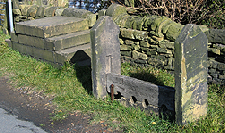 Church of St Peter, Hartshead
Mounting block and stocks opposite the church.

Two goats were tethered by the old schoolroom - the cleaner, greener way to trim back vegetation in the churchyard.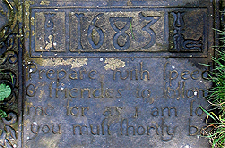 'Prepare with fpeed
O friendes to follow
me for as I am fo
you muft fhortly be'
An appropriatly dour message from Joseph Longbottom of Liversedge, 'who departed this life (spelt 'lief' on the stone) the 15th June 1683' .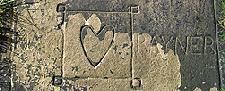 It's not made clear but I assume that Mary Rayner was the wife of George Rayner, who was buried here on 29th March 1635.

View of Castle Hill, Almondbury, and the south Pennine moors from the churchyard.