The Potter
Richard Bell's Wild West Yorkshire nature diary, Thursday, 15th October 2009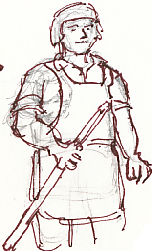 I'M SITTING with a coffee in the café at Dewsbury hospital, waiting for my mum who's got a routine appointment, and trying to catch up with an illustration project. I've got a dozen or more medieval characters to draw including a potter.
I can picture him in my mind's eye but getting that impression onto paper isn't so straightforward.
I feel that he'd be quite well-built because of a working life spent over a potter's wheel. Perhaps he'd wear some kind of cap and an apron. He'd be spattered with clay. I guess he'd be carrying a flagon and perhaps some kind of a stick he'd use in his work - something like an artist's marl stick.


As I'm roughing this out in pencil a man walks who looks just like the character I've been trying to conjure up. He's walking with stick and he buys a coffee so he's carrying, not a flagon but a plastic cup.
I try using the colours of his outfit for my potter, but I think I might be better going for plain unbleached linen. Red cloth was amongst the best that money could buy in the middle ages. You wouldn't have worn it for work.
Next I have to draw a nun . . .