On the Right Path
Richard Bell's Wild West Yorkshire nature diary, Friday, 20th November 2009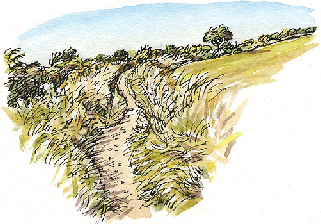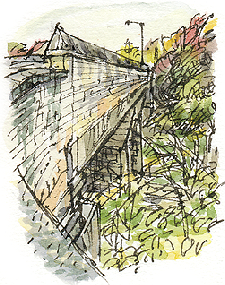 I'm pleased to have got back into the swing of drawing landscape vignettes for my books with three completed today. We haven't been hit by the intense rain that has flooded towns and left four bridges broken in the neighbouring county of Cumbria but I'm glad to be able to settle down to produce the 40 or 50 illustrations I'll need without having to worry about the weather. For this landscape at Hartshead I stitched together a panorama from three photographs.
The bridge at Outwood is another example of how useful a digital camera can be when collecting reference for illustrations. I had to hold my camera above my head to get this perspective on the bridge.
Three illustrations in one day, rather than the one illustration in two days I managed at the beginning of the week is more what I had in mind. I'm going to have to start putting in some long sessions to get things moving.
IT'S HARD to believe that less than two months ago we were having settled summer-like days. I've drawn this view of a footpath near Sandal Castle from a photograph I took in September when we walked the route for my booklet.
A month from tomorrow the days will start getting longer again. I'm looking forward to that.