The Wood Turner
Richard Bell's Wild West Yorkshire nature diary, Saturday, 21st November 2009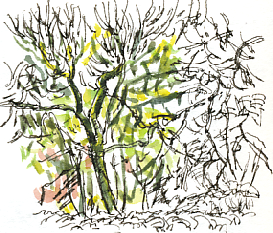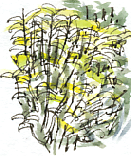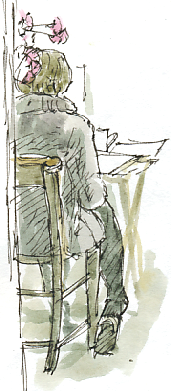 IN Robin and the Sheriff, from The Forresters' Manuscript I've read that the Sheriff of Nottingham, an unwilling guest at one of Robin's feasts in the greenwood, recognises the silver plate he's eating off as his own, cunningly stolen by Robin.
The Sheriff complains that when he gets home he'll be reduced to eating from wood.
At today's craft fair at St Mary's I ask a wood turner if that's true; did the common people really did eat from wood. We're so used to thinking about fragments of pottery when it comes to archaeological excavations but in waterlogged sites like the Viking Jorvik, where wood is preserved, large quantities of wooden utensils are found.
He tells that commoners probably did eat a lot from wood and that for preference they would have used beech as it has natural antiseptic qualities; it's still used in butcher's blocks.
An archaeologist friend once brought him some fragments of wooden bowls he'd excavated and asked him to turn a set of reproductions for everyday use.
Val Vardy working on a botanical watercolour; her stall at the craft fair also featured porcelain flowers and loom work.
Apple tree, Cox's Orange Pippin at my mum's. The pears - Conference and Comice have done well this year. In most years they turn out looking rather thin and spindly; this year they've been juicy and, in the best possible way, pear-shaped.