Darning
Richard Bell's Wild West Yorkshire nature diary, Saturday, 7th November 2009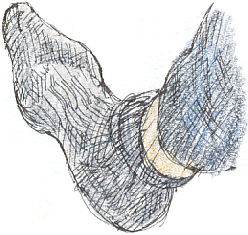 I THINK that it's in one of Ian Rankin's Inspector Rebus novels that, as the body count mounts, someone asks the detective "When did it all start going wrong?"
Rebus thinks for a while, then says "It happened when people stopped darning socks."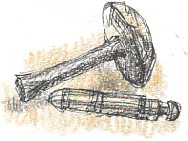 My mum used a wooden 'egg' for darning. You'd push it into the heel or toe of the sock. There was a groove down the side of it, possibly to allow you to push the needle through more easily.
Now that socks are almost indestructable we don't have much use for our darning mushroom (right, with needle case). Socks have generally become worn so thin by the time they go into holes that it's not worth making the repair.
'Look at him working, darning his socks
In the night when there's nobody there.
What does he care?'
The Beatles, Eleanor Rigby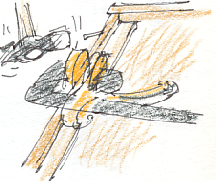 Sagging Drawers
However, I'm proud of a repair that I made this morning. I love doing bits of DIY around the house but always feel I'm being indulgent taking time off from my book work. This was such a small job, and it was after all Saturday morning, so I decided I'd go ahead and do it.
It was a sagging drawer in our 25 year old bed that was sticking. All it needed was a baton along the back to stop the flimsy hardboard coming out of its groove at the back of the drawer.
I've got a fold-down work bench in the garage with tools, glue and various off-cuts to hand, so it's not a problem to start a job. It's just not feeling guilty about taking time off from 'real' work that I find difficult.