Weekend Break
Richard Bell's Wild West Yorkshire nature diary, Saturday, 14th March 2009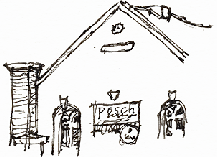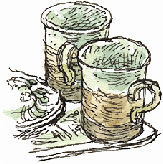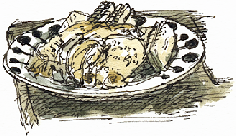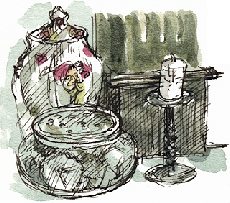 WE'VE BEEN WITHOUT our car for three weeks so this weekend we're catching up on shopping and visits. It's been good to prove that we can manage without it but parts of my business, like delivering boxes of books, have been put on hold during that period, so we couldn't have managed much longer.
This afternoon I'm even feeling relaxed enough to take out my sketchbook - there's something that I haven't been doing much recently - to draw when we visit friends.
It's a pleasure, after so much urgent book work, to take time out to draw everyday objects like mugs, candlestick and pieces of cake (or the few that were left after I'd been back for my second slice!).
The old school (Methodist, or Primitive Methodist, I think), now a kitchen fitter's workshop on School Lane, Horbury. Drawn as I waited for Barbara and her mum in the Co-op.
If you've read previous pages you won't need telling that these were drawn with ArtPen in Noodler's ink and Winsor & Newton watercolour.