The Nondescript
Richard Bell's Wild West Yorkshire nature diary, Wednesday, 11th March 2009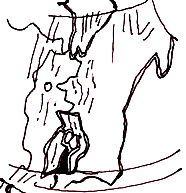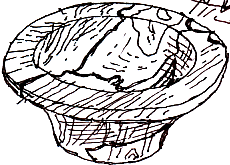 Spalted Beech
Frances Hickinbottom, who turned this small bowl on a lathe, tells me it is made of spalted beech. The pattern is the result of fungi or bacteria attacking the timber. Spalt means 'split, torn or splinter.' Beech is particularly susceptible to this which is why it is not the timber of choice for structural work - such as table legs - but spalted beech is valued for its decorative qualities when finely sanded.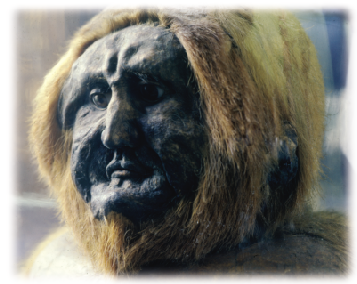 THE NONDESCRIPT is a species of missing link, created from the head of a howler monkey by Victorian naturalist Charles Waterton. Darwin once dined with Waterton at Walton Hall, near Wakefield but, if he met the Nondescript, he never mentioned it in the letter he wrote about his visit. Perhaps it gave him the inspiration he needed to complete his theory!
* * * * * *
I've been in that period between books when, because of all the odd jobs that have built up during my work on the last title, I haven't really started in earnest on the next. I've been drifting in no-man's land but today I crossed the frontier and feel that at last I've got there and I'm being productive again.
I've been slowly learning more about my new scanner and at last today it all clicked into place for me. I scanned the Nondescript from an old 35mm slide on my new CanoScan 8800F scanner. I tried it at maximum resolution of 9600 dpi (dots per inch) and discovered that, from this small slide, I'd created an image getting on for a metre across!