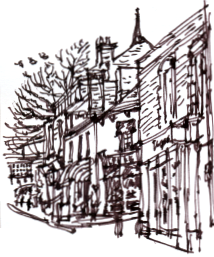 High Street
Richard Bell's Wild West Yorkshire nature diary, Friday, 6th March 2009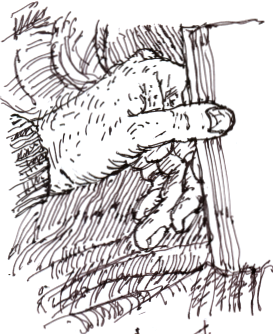 THERE ARE a few empty shops now but Horbury High Street and adjoining Queen Street, going up the hill to the Georgian church of St Peters, are still usually buzzing (or at least humming along) with shoppers and on a crisp sunny March morning the place is almost a picture postcard village with florists, greengrocers and the DIY store displaying goods on stalls in front of their windows.
I've drawn Horbury, my home town, many times but there are still odd corners that I keep spotting that I'd like to draw. The lower end of Queen Street seen from the end of School Lane is on my list.
I drew this view, from the opposite direction, as I waited for my eye test in Auckland's opticians. I'm glad to learn that my eyes haven't deteriorated since my last eye test, so no new glasses this time.