Carl Wark
Richard Bell's Wild West Yorkshire nature diary, Tuesday, 14th April 2009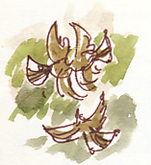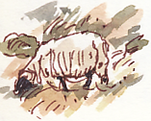 AT TEN TO EIGHT I was leaving home, at ten to nine I was getting off the train at Sheffield city centre and, after a trek up Porter Valley and over the moor, here I am at a quarter to twelve: a red grouse is calling from the heather on the gritstone boulders behind me, 2 meadow pipits (then briefly 3) are involved in aerobatic bickering, hovering in a head-to-head. Dads carrying ropes accompanied by young children with protective headgear are walking by to climb on the gritstone edge.
I draw Carl Wark (the hill on the right) emerging from the mist. Carl Wark is an Iron Age fort where I spent a day or two drawing for my High Peak Drifter sketchbook.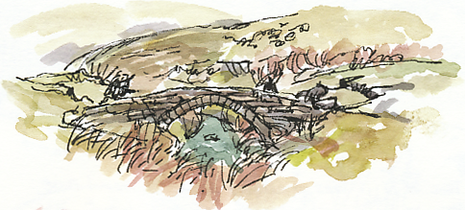 Burbage Brook
At the old packhorse bridge - also included in my Peak sketchbook - below Carl Wark, I'm not the only one drawing but the other artists have brought canvas & easels; one to paint in acrylics, the other in oils.
By the way, the dog with the 'halo' around its head (foreground, left), was wearing a funnel collar:
'If she doesn't wear it, she self-injures!' I was told.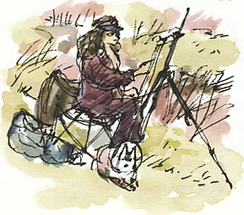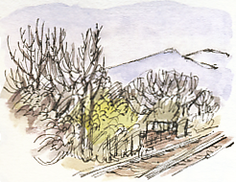 Hathersage station, looking east, 3.40 p.m., gorse & blackthorn in blossom, gritstone barn and walls on hillside pastures with oak wood beyond.
Hathersage
16°C, cool breeze from east
Set in a deep valley amongst misty hills with outdoor/climbing shops along the High Street, Hathersage feels more like a mountain centre than it has a right to - being just 15 minutes by train from the centre of Sheffield, one of our largest cities.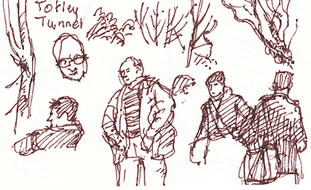 Passengers, Sheffield city station, 4.15 p.m.
From Hathersage Station, looking west to the misty peak of Lose Hill, which is named - I guess - because the alternating bands of shales and gritstones of which it is composed result in landslips on its slopes.