Pieman
Richard Bell's Wild West Yorkshire nature diary, Tuesday, 7th April 2009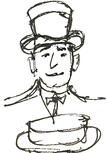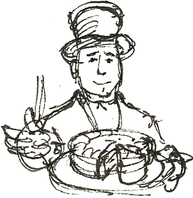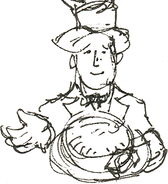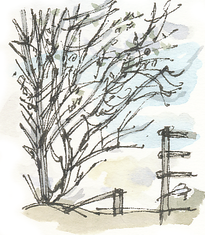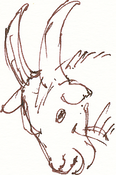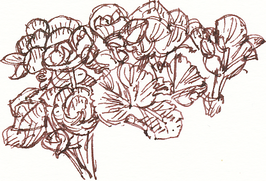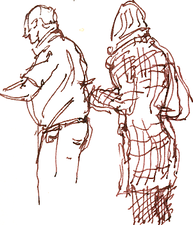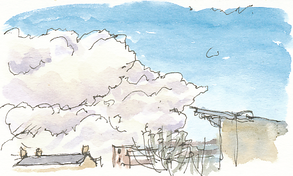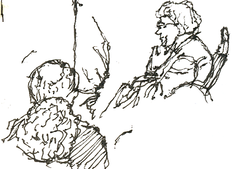 THE COW & THE COCKEREL, the cheese and the vegetables, presented no particular problems when I drew cartoons in chalk marker pens for Farmer Copley's Farm Shop but their award-winning steak pie merited some forward planning. It won the Harvey Nichols' Taste Award so I decided to include a Harvey Nick's doorman (they're the only department store in Leeds to employ one) holding the pie.
I struggled with the gesture of his right hand. I didn't want him brandishing a knife to cut a slice from the pie. He's offering the pie to the viewer but I also wondered if I could incorporate the gesture attributed to chefs of putting thumb fore-fingers together to represent perfection in cooking.
In the end I kept it very simple and, as the doorman wears gloves, I used Mickey Mouse (who also wears gloves) as my model, reducing the number of fingers to three so they don't look like a bunch of bananas.
Passengers on the bus, from our travels on Friday.
Cherry tree, Farmer Copley's.
Customers at the till at Sainsbury's
These cumulus, drawn when I took at tea break in Sainsbury's café, are broader than they are high so I think that makes them Cumulus humilis (lowly cumulus).
By the time I'd drawn with cartoons with chalk on blackboard, I didn't have much time to draw anything else, so I'd like to return to the farm before too long.
One of the billy goats was in head-butting mood and took it out on the fence post.