Thornhill Park
Richard Bell's Wild West Yorkshire nature diary, Thursday, 2nd April 2009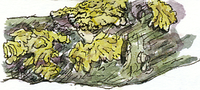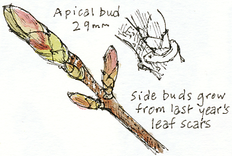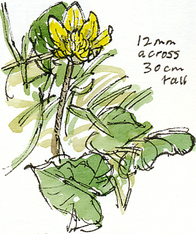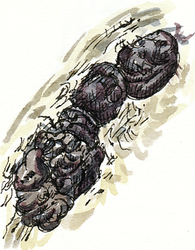 Chickweed: flower 6mm across. Row of hairs along the stem. Spreading clump on bare ground beneath park bench.
15°C, breeze from ENE. 70% cumulus with misty edges. 12.30 p.m.
Yellowish crustose lichen on twig that had evidently been carried by a dog.
Sycamore: buds swelling but already small green aphids are present.
Lesser Celandine: somewhat stunted as it is growing on the well-mown cricket square.
Cramp Ball Fungus, also known as King Alfred's Cakes on log by car park.
WE'VE BEEN involved in so many errands recently that this morning, as Barbara and her mum headed for the supermarket, I decided to get them to drop me off at the park to spend an hour or so drawing from nature.
I took my own advice from Drawing on Reserves, keeping things simple by drawing with Pilot Drawing Pens (0.1 and 0.5) and using my Pentel Aquash waterbrush, as usual with my smallest box of Winsor & Newton artist's watercolours. Also, as described in my book, I took a folding chair and, so that I could get down to draw at ground level, a small folding foam mat.