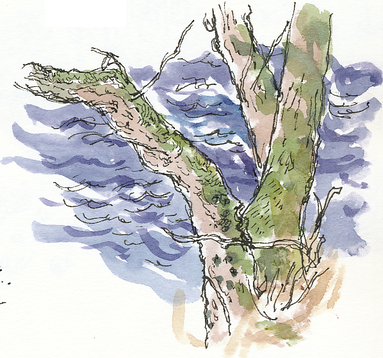 Bolton Bridge
Richard Bell's Wild West Yorkshire nature diary, Friday, 3rd April 2009



JUMPING ON what we thought was the Ilkley train at Leeds, we didn't realise that we'd got on the previous train and we found ourselves heading for Skipton.
'I hope the rest of your day goes better for you!' said the guard. A couple of passengers suggested an alternative to the walk we had been planning: we took the bus to Bolton Bridge, had brocolli & Stilton soup at Bolton Abbey Tea Cottage, then followed the Dales Way alongside the River Wharfe via Addingham to Ilkley.
Wisp of wool from barbed wire fence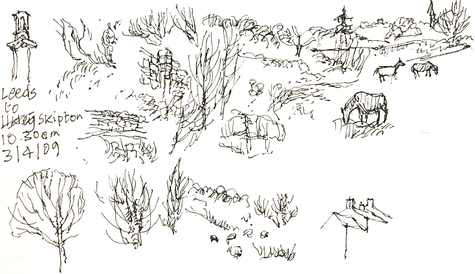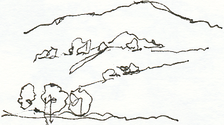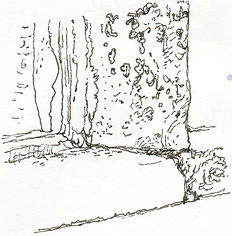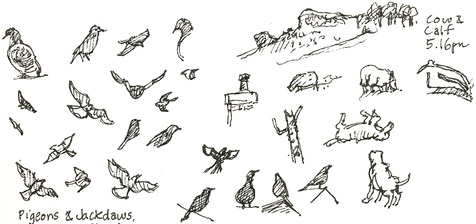 Bolton Abbey Tea Cottage dates from about 1780
Drawing from the bus, heading for Bolton Bridge, isn't so easy as drawing from the train.
If we'd come in the car, we'd have had to negotiate the Leeds Ring Road at rush hour on our return journey. Taking the train, someone else does the driving, giving me chance to do a little more drawing.
Tucked in between the A59 roundabout and the Wharfe at Bolton Bridge there's a triangle of trees, bushes and a grassy track where we heard our first chiffchaff of the year and saw our first wood anemone and butterbur in flower.
Spending the day walking doesn't help us with all the jobs we still have to do back home but on a perfect spring day like today it does us a whole lot better than staying at home catching up on things would. It's good to be reminded that there's a whole world out there waiting for us to explore and enjoy.