Drifts of Bluebells
Richard Bell's Wild West Yorkshire nature diary, Thursday, 14th May 2009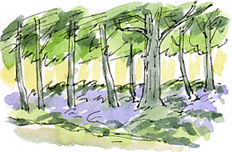 THE WIND has subsided, the sun disappeared behind rain clouds and its a cool humid afternoon. The drifts for bluebells at the top end of Newmillerdam Country Park are at their freshest. There are occasional hints of their hyacinthine fragrance in the moist, still air.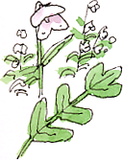 Mystery Flower
A first we guess that this white flower in damp ground by the lake and alongside the stream is a kind of stitchwort but when we take a closer look at the flowers we find they're hood-like. The leaves are like cut-into oak.
The leaves resemble marsh valerian while the flowers are more like enchanter's nightshade.
I sketched it from memory after our walk. Must take a closer look!

Here's what I thought the flower looked like. Perhaps I got the wrong impression.