Pet Portrait
Richard Bell's Wild West nature diary, Tuesday, 19th May 2009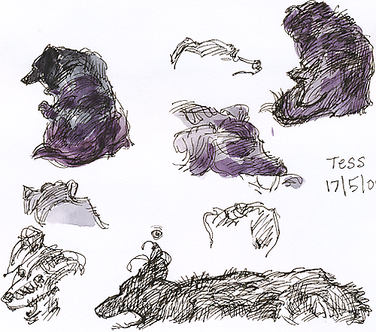 MY HABITUAL approach to drawing an animal is to keep moving on to another sketch as the animal moves. These sketches record what Tess, a friend's dog, got up to over a 15 or 20 minute period but you couldn't describe them as a portrait. However that's what I've been asked to do by a neighbour: a portrait of a pet . . .
Working from Photographs
I resorted to working from an existing photograph the neighbour had chosen for me. This makes it a long job, as in effect I'm attempting to draw the surface of the photograph as accurately as I can, rather than drawing a dog.
Here's how I set about it:
I scanned the photograph and printed it as an A5 (8 x 6 inch) black and white enlargement on thin paper

Using a makeshift lightbox I briefly traced the outlines onto cartridge paper (not that easy with all those feathery edges!)

I drew the dog in HB pencil, indicating shadows with shading following direction of fur

I stretched the cartridge paper on a drawing board and added watercolour (mainly Indian red, raw sienna, yellow ochre, Payne's grey with touches of ultramarine and madder lake light to make colours cooler or warmer)

As the dog is so light in tone, I found I needed to paint in the background at an early stage (mainly sepia and yellow orchre). Until I did that, the dog was the darkest object on the white paper

With some areas, for instance the feet, I turned the photograph and my watercolour upside down, making painting more of an abstract exercise. A wanted to be true to the photograph rather than impose my preconceived ideas of what a paw or an ear should look like

On several occasions I took a complete break from the picture and came back to it fresh to try to access which areas needed my attention

In one final session I went over the whole picture again, checking it over, tweaking areas of tone and adding texture to the background with some sepia watercolour crayon the background
Particular Problems
The photograph was taken with a flash, which tends to flatten the form, so it's difficult to build up a convincingly three-dimensional impression of the dog.
Certain areas, like the detail around the eye, seem to get over-emphasised in the photograph, perhaps because of the flash, so I blotted them out a little so they didn't stand out as much - so I haven't fully succeeded in being 'true to the photograph'!
I have to say that I'm happier drawing wild animals or farm animals than pets - however cute they are! Although I have to admit this chihuahua isn't the yappy variety; she's got a calm, patient, concerned kind of temperament.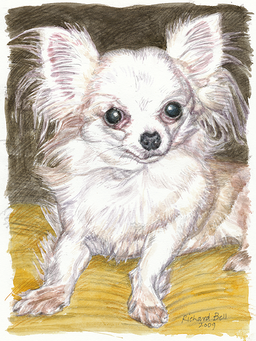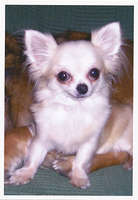 Original photograph for comparison. Background dog deleted in my version!