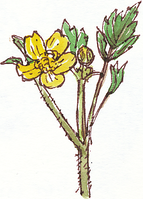 Meadow Area
Richard Bell's Wild West Yorkshire nature diary, Saturday, 2nd May 2009
MY SO-CALLED meadow area at the end of the garden isn't all that I'd like it to be but, going down there after a day trimming the hedge and clearing the path, it works perfectly as a way of turning my back on everyday tasks and escaping to a patch of grassroot jungle.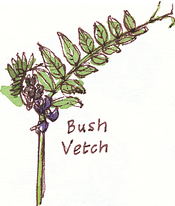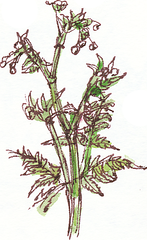 Cow Parsley
Anthriscus sylvestris
Docks are threatening to take over; their broad leaves are effective at shading out the competition but I'm glad to see cow parsley alongside the hedge and spreading into the little meadow. A bit of selective cutting back should help me strike a balance.
Creeping Buttercup
Ranunculus repens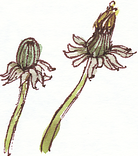 Dandelion
Taraxacum officinale
I treat creeping buttercup as a weed when it appears in the veg beds a yard away, yet here in the 'meadow' I can appreciate the glossy freshness of its broad flowers. My brother-in-law led his young grandson on a dandelion hunt in our garden the other week but despite their zero-tolerance cull I'm not short of its flowers and buds to draw. I don't mind having a few of them, here in my mini-nature reserve.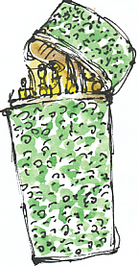 The Draughtsman's Compact
After drawing Charlotte Brontë's watercolour box last week, I couldn't resist making a quick sketch of this exquisite case of drawing instruments which has been on loan for an exhibition (which is now over, I'm sorry to say). The name 'JOHN CARR' is engraved on a silver plaque on the hinged lid and I like to imagine this celebrated Georgian architect (1723-1807) touring England, staying as a guest at the kind of country house you see in adaptions of Jane Austen novels and clicking open this case to draw up plans for Palladian buildings such as Harewood House, the grandstand at York races, the Crescent at Buxton and - his largest but unfinished project - St Antonio Hospital in Oporto, Portugal.
The set includes beautifully made ruling pens, drawing compass (with separate extender?), dividers, a tiny pencil, a scalpel, scale ruler (or is it some kind of early slide rule for calculations), protractor and a kind of double parallel ruler, articulated with two brass swivels.
The rulers are made of ivory, the case covered with green shagrine, which may be ray skin or possibly shark skin.
Carr was born in Horbury where he started work as a stone-mason. His later career as architect also included a spell as mayor of York. He is buried in the crypt of Horbury St Peter's Church, another of his buildings, his gift to the village of his birth.