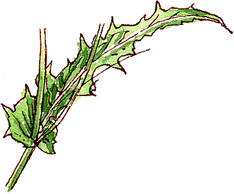 Mizuna
Richard Bell's Wild West Yorkshire nature diary, Sunday, 3rd May 2009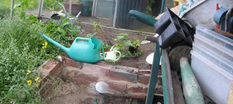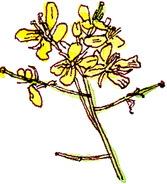 As you can see from the four-petaled cross-shaped (crucifer) flowers, mizuna is a member of the Brassica family.
The leaves have a toothed margin, like dandelions. They have a peppery or mustard-like taste and can be used in salads and stir fries or steamed or boiled like spinach.
We're going to have to clear them from the bed in the greenhouse soon to make way for tomatoes so I'd like to try using up what's left in soup.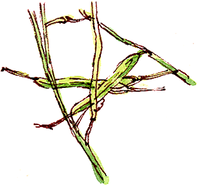 Seed-pods are developing on some of the mizuna plants, perhaps it would be worth saving some of the seed.
This little greenhouse crop of mizuna reminds me of our holiday last year in the Isle of Man. I bought a Grow Your Own magazine from the Spar shop in the village which had a packet of seeds as a giveaway on the cover.
I gave the greenhouse a spring-clean today, brushing and squeegee-ing away the patches of green algae on the glass.