Coffee Break Birds
Richard Bell's Wild West nature diary, Thursday, 28th May 2009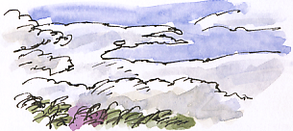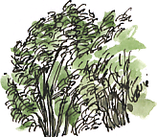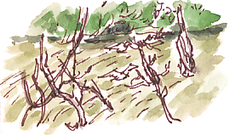 Collared dove - once a constant presence in our back garden you're more likely to see wood pigeons.
This black-headed gull touched down in the car park. Even seeing it so closely, I got the pattern of grey on its wings wrong in my first sketch; the bird on the left is closer to what I saw than the bird above.
I sketched black-headed gulls again in the afternoon, this time at Newmillerdam Country Park. Those stark, drowned trees evoke a sense of wilderness that the view from MacDonald's can't match.
I ENJOY another half hour coffee break at MacDonald's while Barbara and the mums do their tour of Morrison's supermarket. Beyond the car park there's a grassy slope and a variety of trees and shrubs, ruffled by the wind. A great improvement - from what I remember - on the industrial units that stood here on the site of Westgate brickworks 20 years ago.
Swifts, rooks, wood pigeons, blackbirds and a variety of smaller birds which I couldn't identify from a distance are making the most of this green space.
There's a high, distant bank of stratus with lower cumulus moving over Wakefield in a wind that is blowing from the north or north west.