Ossett Market
Richard Bell's Wild West nature diary, Friday, 29th May 2009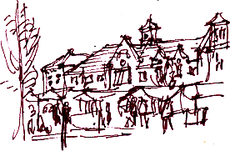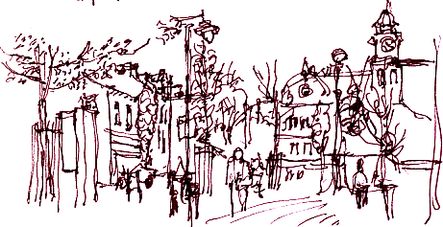 'DO YOU MIND me asking, are you Richard Bell?' says the woman on the next table outside the De-lish Café as soon as I start drawing the bustling market. She's very keen on local history, so she says that she enjoys my little local guides.
Ossett marketplace now has several cafés with tables where you can sit and watch the world go by, and draw it if you wish, over a latté. The trouble is, as Ossett sits overlooking the Calder valley it can be a bit windswept on the open precinct but today it's perfect; warm and sunny but with a hint of a breeze to cool you down.
They say that if you sit at a café table in Paris, sooner or later you'll see everyone you know walk by. We don't have to wait long here in Ossett to see an old friend and catch up on the gossip.