Ducks of Derwentwater
Richard Bell's nature diary, Saturday, 13th June 2009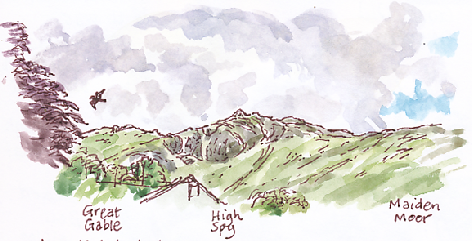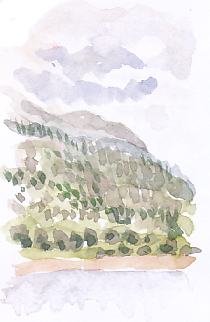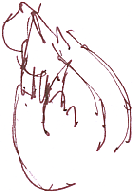 A MALLARD duck approaches us as soon as we sit at a bench for our flask of coffee. It's making a soft contact (or begging?) call after the quack.
When another duck arrives and there's a ferocious tussle. They clamp onto each other's breast feathers with tightly shut bills.
They then circle, crests raised, before deciding - so it seems - that we won't be feeding them any breadcrumbs. A few quacks and they swim off together.
Latrigg from Nichol End Marina café.
We follow the lakeside path, arriving at the Ladore Hotel where we stop for lunch. I draw this view, looking south-west towards Borrowdale from our table on the lawn.
Borrowdale is the wettest place in England. Although by the lake we had a perfect day, we could see wisps of cloud stirring around in Borrowdale, just a couple of miles away. They seemed to be having showers while we sat in the sun.
We climbed up past Ladore Falls (not much more than a trickle today) just behind the hotel, on a steep zigzag path through the woods. Well worth the climb as the view over Derwentwater and Bassenthwaite (above) was spectacular. We could see all the details of our walk - woods, fields, landing stages, cattle grazing by the river - much as I'd draw them in one of my picture maps.
We took the road across Ashness Bridge back down to lake level and continued along the shore. An unusual casualty on the pebbly beach was an owl, which from the proportions of its head, I guessed to be short-eared owl.