Ruskin's Chair
Richard Bell's nature diary, Sunday, 14th June 2009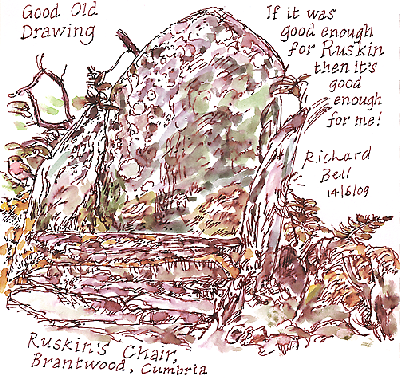 I'VE BEEN invited to do a drawing for a back to basics drawing campaign. For me this immediately brought John Ruskin (1819-1900) to mind, so much so that I couldn't think of anything else more appropriate to draw than Ruskin's Chair, made of Cumbrian slate, which you can see (and sit in; it's surprisingly comfortable) in the woodland garden of Ruskin's house Brantwood, which overlooks Conniston Water.
Nibbled by midges, aware that I didn't have all day and perhaps a little overawed to be drawing rocks, lichens and plants in a place that meant so much to Ruskin, I didn't succeed in doing the drawing I would have liked to. I'll try again next time I'm a Brantwood.
Brantwood is one of those places that has come to mean a lot to me so I'm sure that I'll be back before too long.
The Pencil Museum
Before we left Keswick we had time for a short visit to the Pencil Museum with its tempting artists' materials and art books shop. Since we last visited they've opened the Sketcher's Café. All the tables have supplies of crayons and paper so you can have a creative coffee break. Why aren't all cafés like that?!
I try one of the Inktense pencils (iron green). These pencils are water soluble but, once you've added water and the wash has dried, it becomes permanent.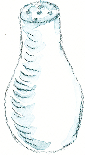 I didn't ask what this pepper pot was doing amongst the art materials - perhaps the salt alongside it is used for demonstrations of watercolour techniques. But pepper?