On the Road Again
Richard Bell's nature diary, Monday, 30th June 2009
SINCE MY LAST diary entry about our short trip to Cumbria, I've been back to Cumbria for a couple of days drawing and then, with just a day's break, off to the Yorkshire coast for two days drawing at Whitby.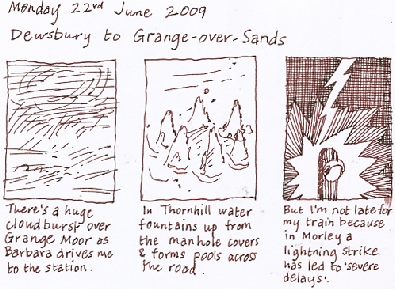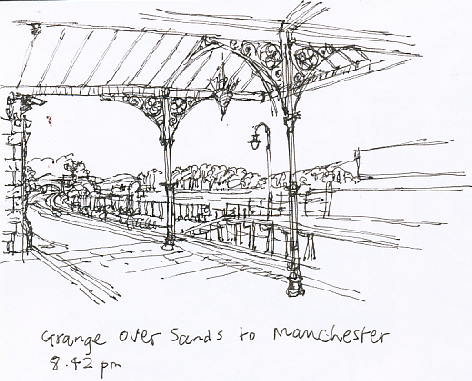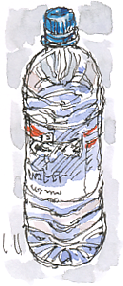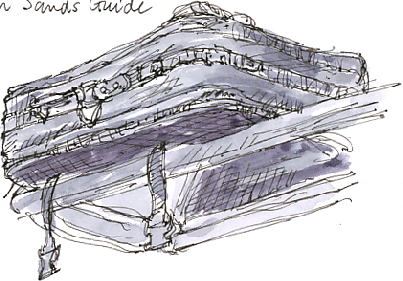 I'm trying to set up a book project that's going to involve a lot of travelling, if I'm able to find a publisher. I started off with some trepidation. The storm described above didn't help to put me at ease, nor did arriving at my friends several hours late, well after midnight.
Not my suitcase - I'm travelling with a backpack.
I'd told my friends not to wait up for me and I didn't see them the next morning - they were off to work early and I decided I needed to catch up with some sleep after my overnight journey. It took me ages to get my drawing things together but as this was my first day of drawing sample sketchbook pages for my proposed project, I was determined not to be hard on myself.
The result was that, once I was there on location down on a small rocky promontory overlooking Morecambe Bay, I felt thoroughly relaxed and at ease and I enjoyed the drawing, despite temperatures that, according to my key-fob thermometer, climbed to 41°C, that's over 100°F, which I guess is possible on south-facing rocks.
I'd like to show you the results but I've got to save them for my new book. Here are the sketches I did during the train journey there and back.