Here and There
Richard Bell's Wild West Yorkshire nature diary, Saturday, 19th September 2009
Woman in car: "I think I'll just drive in front of the building that Richard's drawing, then, just as he's done the drawing and he's starting to paint my Hyundi CRV, I'll drive off again before he's gets a chance to add the colour!"
Well, that's what I guess she was thinking. There seems to be an immutable law that whatever I'm drawing moves or gets obscured behind some other object.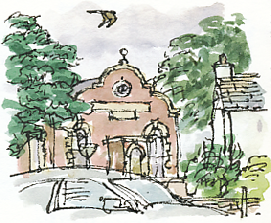 United Methodist Church, 1910, now converted as a dwelling, drawn from the Black Bull at Midgley on Thursday. Not a good place for healthy eating - the roast vegetable bake we'd all opted for had been replaced with a vegetable lasagne but I'm afraid the vegetables were few and far between; nice enough but mainly cheese sauce and pasta (and served with rather nice chips - I feel so guilty!).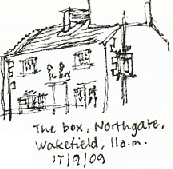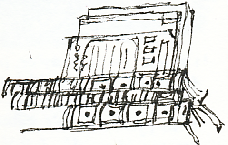 Waiting room drawing of videos and Reader's Digest condensed books, Monday.