Oyster Shell
Richard Bell's Wild West Yorkshire nature diary, Sunday, 24th January 2010




THIS FRAGMENT of oyster shell reminds me so much of the colour and lustre of flint that I'm surprised how light it feels when I pick it up. It's as light as cork.
Barbara picked these up on Cleethorpes beach when we were there last summer. We had limited time, not just because of wet, windy weather but also because car parking was strictly limited to two hours so as I drew the view of the beach from the shelter of my pop up tent she gathered me some extra items to draw later.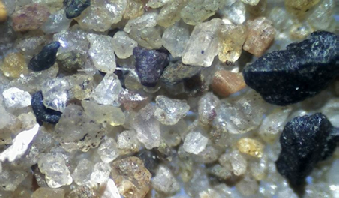 World in a grain of sand
In the bottom of the brown paper bag the shells were in there's some sand, here seen at 60x with my USB microscope. The glassy grains are quartz, rounded at the corners by the panelling they've had as the tide goes in and out. The dark grains I'm guessing are fragments of mussel shell or perhaps coal.