One Last Push
Richard Bell's Wild West Yorkshire nature diary, Saturday, 23rd January 2010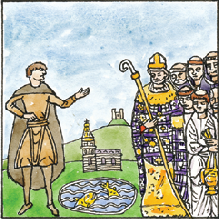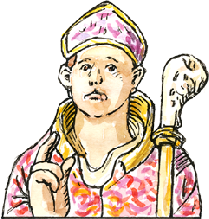 SINCE MY last update I've hardly left my desk. I've been putting in pretty well 12 hour days (with breaks for lunch etc) weekday and weekend. It's been great to see all the pages appearing one after the other. They average a day and a half each to do. Today I started on the last eight pages of historical comic strips.
But I had to post a letter on Wednesday and I realised that this was the first time I'd walked beyond the end of our drive this year (and I've gone out in the car on only a couple of brief errands). That's not like me and I'm dreaming of getting out walking in the Peak District again - my favourite spring walk, escaping out onto the wild moors.
Computer v. Watercolour
I seem to be constantly revising my technique as I work away on this project, but I often do that. Because of continuing glitches on this new Dell Studio XPS* computer - the latest is that the graphics pad isn't working properly - I decided this morning to go back to good old watercolour. I like the graphic effect of drawings coloured in Photoshop but it was starting to take as long as watercolour, which I like too, in the right context.
The computer colouring technique I've been using works very well for symbolic subjects like maps but for the drama and period texture of my medieval story I want to get away from having to draw every shape as a closed shape, as in a colouring book. I want more freedom!
The Earl de Warren presents Wakefield's Fishlake church to the Cluniac monks of Lewes Priory.
Richard Swinfield, Bishop of Hereford.

Searching for a solution to my various computer problems I've found a way of getting my Traveler Microscope fully functional again.
Mr Atkinson my mathematics teacher at Ossett Grammar School used to look at the pencil I was using for geometry and say 'Bell, you could plant potatoes with that!'. In this close up it looks as if you might climb it like a rock pinnacle.
Poetry Corner
Help! I am a Prisoner
in the Studio
Rain or shine, sun or snow,
I stay here in the studio.
Pencil, rubber, scanner, pen;
Complete a page . . .
then start again.
Richard Bell, aged 58¾
* My new Dell Dimension XPS isn't necessarily at fault because I'm experiencing these annoying glitches - it could be software, settings, conflicts or attached devices. On the whole my productivity is up because it's so much faster but I wish I could get over these mysterious problems.